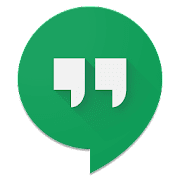 Updates
The latest updates make it easy to connect with friends and family. You can socialize with ease. You can keep in touch with individuals and create chat groups with multiple people. With Hangouts, you can share pictures, videos, stickers, GIFs, and emojis.
There have been bug fixes so that all functions can be managed. It is an app for chatting and using various messaging features.
Hangouts allows for easy communication with people who share your interest. In a future update, it is expected that there will be a voice calling feature added to the app.
Overview
Hangouts will help you to keep in close contact with friends and family. You can use it for direct messaging and calling individuals or a group of people. The voice and video calling provides a high-quality connection and the features it has makes it easy to use.
The Hangouts app can be used to share almost any kind of media and it is fun to use. Customize your status and start connecting with others.
It can be used easily from desktop or a mobile device.
Features
Free access to messaging, voice calling, video calling, and media sharing.
Adding friends allows you to have group calls of up to 10 people.
Group chats of up to 150 people can be created.
Free international calling to other hangout users.
You can use the app on a desktop or mobile device.
Send messages to friends and share media even if they are not online.
You can connect your Google Voice account through SMS, voicemail, or a phone number.
Pros
Multiple friends can be added at one time.
Messaging, voice calling, and video calling are free.
Use the app to share emojis, animations, and GIFs.
It can be managed from any device.
Cons
Deleting an established account can be tricky.
You cannot use calling and messaging at the same time.
How Does It Work?
Set up hangouts on your desktop or mobile device by downloading it from the play store.
Once the application has been installed, allow access to your Google account.
Set up the account as prompted.
Use the green plus icon to add friends and create groups.
Set up groups by adding multiple contacts.
Use the video calling icon to connect with friends.
Do you like this app?
25 10
Most Popular Apps
Latest Apps
Search APPS by Tags