Updated 05-05-2023
| | |
| --- | --- |
| Version | 6.80 |
| Google Play Downloads | 3,289,904,454 |
| Developer | Microsoft Corporation |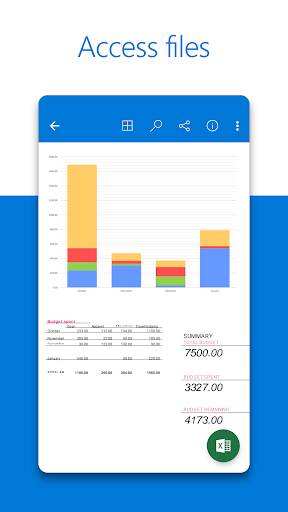 Overview
Microsoft OneDrive is a cloud storage and syncing service that enables Android users to store, access, and share personal and professional files from any device, anywhere. With OneDrive, users can create, edit, and view files on-the-go, collaborate in real-time with colleagues, and keep important data safe and secure.
Features
Integration with Microsoft Office Apps
OneDrive integrates seamlessly with Microsoft Office apps, which makes it ideal for those who use Word, Excel, and PowerPoint on a regular basis. With OneDrive, users can save their Office documents directly to the cloud without ever having to think about where they are. Everything is stored automatically on the app, ready for immediate access on any device.
Advanced Sharing and Collaboration
OneDrive makes it easy for users to share and work together on files with colleagues, friends, and family members. Users can grant varying levels of access to files so others can view, edit, or comment on them. Notifications and modifications sync in real-time so everyone on the project is continuously updated.
Automatic Camera Backup
OneDrive provides automatic camera backup, which means all photos and videos taken on an Android device are saved directly to the app. This helps users avoid losing photos due to damaged or lost devices. Additionally, it allows users to easily access and share these files with others.
Pros
1. Seamless Integration with Other Microsoft Products
OneDrive shines when used in combination with other Microsoft products. Since it's already integrated into Microsoft Office, it's the perfect choice for people who regularly use Word, Excel, or PowerPoint. When you make edits in Office applications, the changes are immediately saved to the cloud, making it easier to collaborate on projects.
2. Easy-to-Use Interface
The OneDrive interface is intuitive and user-friendly, making it easy for users to access their files and collaborate with others. Users can navigate quickly to the files and folders they need; upload, download, and share files; and edit documents right within the app.
3. Automatic Backup of Camera Photos and Videos
The automatic backup feature is another key benefit of OneDrive. The feature saves all photos and videos captured on an Android device to the app, making it easy to share and access them when needed. This ensures that even if your device is lost or damaged, your precious memories are safe and sound.
Cons
1. Limited Free Storage
One major drawback of Microsoft OneDrive is that it only offers 5GB of free storage space. This may not be enough for users who have a lot of files, photos, or videos to store in the cloud. If you need more than 5GB, you'll have to pay for it.
2. Slow Download Speeds at Times
Another common concern with OneDrive is slow download speeds, frustrating users who try to view files from remote locations. This can make it difficult to collaborate on large projects or content requiring fast uploads and downloads.
3. Limited Integration with Competing Products
OneDrive works best with Microsoft products, but it falls short in compatibility with other services such as Google Drive or Dropbox. Users who employ other products may often experience syncing difficulties or collaboration restrictions when using the app.
Comparison to Similar Apps
Dropbox is widely regarded as the most direct competitor to OneDrive. It operates similarly, using a file-syncing model that allows users to access their files from any device. However, OneDrive has the added benefit of being integrated into Office apps for better coordination, while Dropbox includes robust collaboration tools for real-time editing and communication.
For Android-related products, Google Drive is OneDrive's most significant competitor. It also comes integrated with Google's suite of productivity tools such as Docs, Sheets, and Slides. When it comes to advanced collaboration capabilities, Google Drive sometimes surpasses OneDrive with features like multi-user editing at once and offering additional add-ons for increased productivity.
Tips for Using OneDrive
Enable Camera Backup on Mobile Devices
Activating the automatic camera backup feature will ensure that your most valuable memories are always safely stored in the cloud. This option is available in the app's settings and needs to be turned on manually.
Use OneDrive to Collaborate with Others
OneDrive is perfect for people who often need to work with others on specific files or documents. With the ability to share files directly from the application, multiple people can edit documents simultaneously without risking overwritten changes.
Consider Upgrading for Greater Storage Capacity
If you enjoy using OneDrive, it is worth considering upgrading to premium storage plans to get more space. In addition, an upgrade will give you greater flexibility with advanced sharing controls.
Conclusion
Overall, Microsoft Onedrive is an outstanding choice for individuals who regularly work on and synchronize Word and Excel documents between devices. OneDrive's seamless integration with Office applications, automatic camera backup, and efficient sharing and collaborative tools make the app a remarkable online storage option. However, if you need more free storage space or compatibility with other file-syncing apps beyond Microsoft products, there are other solid options worth investigating further.
Do you like this app?
3 1
Related Apps
Most Popular Apps
Categories