Updated 05-17-2023
| | |
| --- | --- |
| Version | Varies |
| Google Play Downloads | 13,057,043,971 |
| Developer | Google LLC |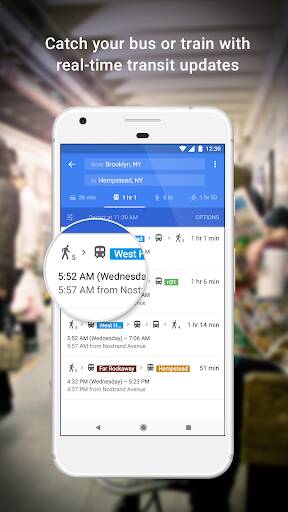 Overview
If you're looking for a reliable, user-friendly navigation app for Android, Google Maps is hard to beat. This app has become the go-to choice for many users thanks to its wide range of features and accurate, up-to-date map data.
Features
Navigation and Routing
One of the most important features of any navigation app is its ability to provide accurate routing and turn-by-turn directions. Google Maps excels at this task, providing real-time traffic updates and rerouting options when necessary. You can choose different modes of transportation, such as walking, biking, driving, or taking public transport, and the app will give you the best route based on your chosen mode.
Offline Maps
While you're likely to have access to Wi-Fi or mobile data most of the time, there are still situations where offline maps come in handy. Google Maps allows you to download maps of specific areas and access them later even if you're not online. This feature is especially useful if you're traveling to a new place and don't want to get lost without an internet connection.
Local Business Information
In addition to mapping and routing, Google Maps provides a wealth of information about local businesses in your area. You can find businesses near you, read reviews, and even get detailed information about specific places, such as hours, menus, and phone numbers.
Integration with Google Services
Google Maps is tightly integrated with other popular Google services, such as Google Search, Google Photos, and Google Street View. You can easily access these features while using the app, making it a convenient all-in-one solution for navigating and exploring.
Pros
Accurate and reliable
Google Maps is widely recognized for its accuracy, providing detailed and up-to-date information about roads, traffic, and other hazards. This makes it a reliable choice for anyone who values clear and precise directions.
User-friendly interface
The app has a clean and intuitive interface that makes it easy to use even for first-time users. Navigation is straightforward and the various features are organized in a logical way.
Large user community
Because Google Maps is so popular, it has a large and active user community. This means that you can benefit from crowdsourced information and reviews, as well as access to real-time traffic updates from other users.
Cons
Drains Battery
Like any navigation app, Google Maps is battery-intensive and can quickly drain your phone's power if you're using it for extended periods of time. Fortunately, there are ways to mitigate this problem, such as dimming your screen, lowering your volume, or closing other apps while using Maps.
Requires Internet Connection
While offline maps are available, most of the app's features require an internet connection to work properly. This can be problematic if you're traveling to an area with limited connectivity or if you have a weak signal.
Crowded Display
Google Maps can sometimes feel cluttered with all its different features and layers. This can make it difficult to find the information you need, especially if you're not used to the app's layout.
Comparison to Similar Apps
Waze is another popular navigation app, but it has a stronger focus on real-time user-generated data, such as traffic warnings and speed traps. While Waze can be more accurate in some situations, it can also be prone to sending drivers on unnecessarily long or circuitous routes. Overall, Google Maps is considered the more reliable and accurate choice for most users.
Apple Maps
Apple Maps comes pre-installed on iPhones and is integrated with Siri and other Apple services. However, it has a less comprehensive database than Google Maps and can sometimes lead users astray. Apple Maps is improving with each new update, but it may still have limited appeal for Android users.
Tips for Using the App
Customize Your Settings
To get the most out of Google Maps, take some time to customize your settings. You can adjust the volume, choose different modes of transportation, and set up voice directions or visual cues according to your preferences.
Make Use of Voice Commands
If you're driving or biking, it can be difficult to navigate the app with your hands. That's why Google Maps supports a range of voice commands that allow you to interact with the app hands-free. Try saying "OK Google, navigate home" or "find me a coffee shop nearby" to see how it works.
Save Your Favorite Places
If you frequently visit the same locations, save them as "favorites" so you can quickly access them later. You can also create custom lists for things like restaurants, museums, or scenic viewpoints, making it easy to plan trips ahead of time.
Conclusion
Overall, Google Maps for Android is an excellent navigation app that combines accuracy, reliability, and ease of use. While it's not perfect, its extensive feature set and integration with Google services make it a worthy choice for anyone who wants to explore and navigate with confidence.
I highly recommend downloading this app for your Android device.
Do you like this app?
10 3
Related Apps
Most Popular Apps
Categories