Updated 04-10-2023
| | |
| --- | --- |
| Version | 2.10.4 |
| Google Play Downloads | 57,387,032 |
| Developer | Cricket Wireless LLC |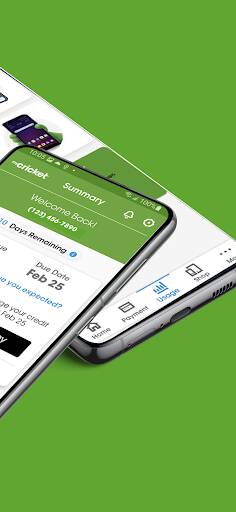 Overview
myCricket is an Android app under the tools genre designed to help Cricket Wireless customers manage their accounts with ease. This app is a one-stop-shop for all things related to Cricket Wireless, from account management to payment options and more.
Features
1. Self-Service Account Management
With myCricket, Cricket Wireless customers have the ability to access their account information and manage it all in one place. This includes viewing your balance, checking your data usage, making payments, and updating your personal information.
2. Payment Options
The app offers different payment options that make bill payment a breeze. Customers can use their credit/debit card or their Cricket Refill Card to make a payment at any time of the day. Payment confirmation is almost instant, and customers receive email notifications after every payment made using the app.
3. Convenient Login Options
The app doesn't require customers to remember multiple usernames and passwords. They can use their phone number, email, or even Facebook ID to log in to their accounts. They can also use a 4-digit PIN or their fingerprint to enable touch ID and make login processes smoother.
4. Customer Support
Under the Contact Us section, customers can initiate a chat session with a support agent for assistance with any queries they may have. There's also the option to call customer support directly from within the app, making it easier than ever to get help when needed.
Pros
1. User-Friendly Interface
The app has an easy-to-use interface that is straightforward for users to navigate, even those who aren't tech-savvy.
2. Secure Login and Payment Options
myCricket has robust security features that guarantee that customer information is secure when using the app for payment or account management purposes.
3. Convenient Payment Options
The app offers multiple payment options that make bill payment more accessible to users, from credit and debit cards to Cricket Refill Cards.
Cons
1. Limited Features for Non-Cricket Wireless Customers
The app's primary focus is on providing account management features for Cricket Wireless customers, leaving those who aren't customers with limited access to its features.
2. Frequent App Crashes
Several users have reported that the app crashes often, which can be frustrating, especially when trying to make payments or manage accounts.
Comparison to Similar Apps
Compared to other mobile apps designed for wireless account management, myCricket stands out for its user-friendly interface, as well as the convenience of payment options offered to customers. It is similar to the T-Mobile app, which helps T-Mobile customers manage their accounts, make bill payments, and more. However, the T-Mobile app offers advanced features such as travel benefits and device troubleshooting, which are not available in myCricket.
Tips for Using the App
If you're new to the myCricket app, here are a few tips to help you get started:
1. Set Up Your Touch ID and PIN
You can make logging into the app more secure and convenient by setting up your touch ID or PIN from within the app.
2. Use Auto Pay to Avoid Late Payments
Set up auto-pay to avoid late payments and to simplify the payment process.
3. Keep Your Account Information Up-To-Date
Make sure you regularly update your account information to ensure that it's accurate, especially your email address and phone number, as these are essential for payment notification purposes.
Conclusion
Overall, myCricket is an excellent app for Cricket Wireless customers who want a streamlined way of managing their accounts and making bill payments. It's effortless to use, secure, and has numerous payment options that make payments more accessible. However, if you're someone who prefers more advanced features like device troubleshooting and travel benefits, you might want to consider other wireless account management apps available in the market. Despite its limitations, we recommend the myCricket app for its user-friendly interface, convenience and ease of use.
Do you like this app?
39 16
Related Apps
Most Popular Apps
Categories