Updated 05-14-2023
| | |
| --- | --- |
| Version | Varies |
| Google Play Downloads | 2,768,343,847 |
| Developer | Meta Platforms, Inc. |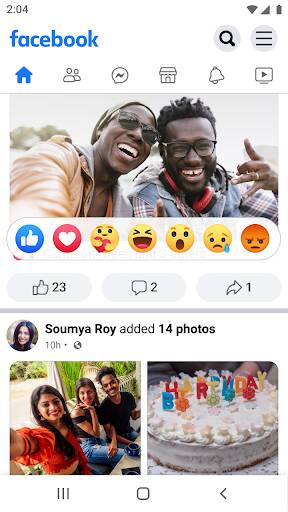 Overview
Facebook Lite for Android, identified by the app's ID com.facebook.lite, is an excellent social media application designed for Android devices. The app has been created to work well on low-speed internet connections as well as on older Android smartphones. While it lacks some of the features of the full version of Facebook, it is an ideal option for individuals who want to stay connected without using up too much data or storage space.
Features
Data-saving features
Facebook Lite has several data-saving features that make it stand out from the standard Facebook app. With its smaller size, the app consumes very little data from your mobile plan. Additionally, images on the app are loaded in low resolution to save data usage, and videos will only play if you choose to do so, thereby saving more of your precious data.
Works well on less powerful devices
Facebook Lite is designed to work well on older and less powerful Android smartphones with small storage capacities. The app is lightweight, takes up minimal storage, and can function seamlessly on low RAM devices. As a result, the app loads quickly, and you don't have to worry about it bogging down your phone's memory.
Simple interface
The overall design and layout of Facebook Lite is straightforward, making it easy to use, especially for people who are not familiar with social media. The app has a native Android interface with familiar elements such as slide-out drawers and easy-to-use navigation features.
Pros
Lightweight and fast
The high point of Facebook Lite is how fast it operates. The app takes up very little space on your device, allowing you to access Facebook promptly. Its simplistic design also makes it operate smoothly and without lag.
Compressed data usage
The app consumes very little data from your device, which is an excellent feature for people with limited internet plans. Facebook Lite's compressed data usage makes it easy to browse Facebook without worrying about using up all your data allowances in the process
Cons
Limited features
Facebook Lite lacks some of the robust features found on the desktop or standard app version. For example, the app has a limited range of filters, and there are no options for 3D photos or augmented reality effects. Additionally, Facebook live streaming is not supported unless you use a separate app like Facebook Messenger.
No push notifications
One significant downside of Facebook Lite is that it does not support push notifications. As a result, you will need to use the regular Facebook app if you want to receive notifications.
Comparison to similar apps
When compared to other lightweight versions of social media apps, like Messenger Lite, Twitter Lite, or even Instagram Lite, Facebook Lite stands out because it consumes less data, making it easier to accommodate users with different data plans. In comparison to the regular Facebook app, Facebook Lite offers a similar experience without the extraneous bells and whistles, and its design is better suited for users that prefer a more straightforward interface.
Tips for using the app
Optimized loading time: If you're stuck with slow internet, a little known but useful trick to speed up the app's loading time is to clear the app's cache via the Android device settings.
News Feed customization: You can prioritize the content you see by adjusting the order in which you see them on Facebook Lite. Click on the three nested bars to the top right-hand-side of the page, tap Settings, and locate News Feed Preferences. You can edit your experience in the "Prioritize who to see first" and "Unfollow people to hide their posts" sections
Video download: If you're on an unlimited data plan or only want to watch videos offline YouTube-style, you can download them under the Media section of the video.
Conclusion
Facebook Lite is an excellent app to have on your Android device, particularly for those with limited internet bandwidths and older or less powerful phones. Facebook Lite may lack some of the features that are intrinsic to the desktop website or the regular Facebook mobile application, but it offers an easy-to-use interface and allows you to browse Facebook on the go without consuming too much of your data or storage space. We recommend this app for users who value speed and efficiency over extra features and are looking to conserve their usage while enjoying social media.
Do you like this app?
134 6
Related Apps
Most Popular Apps
Categories